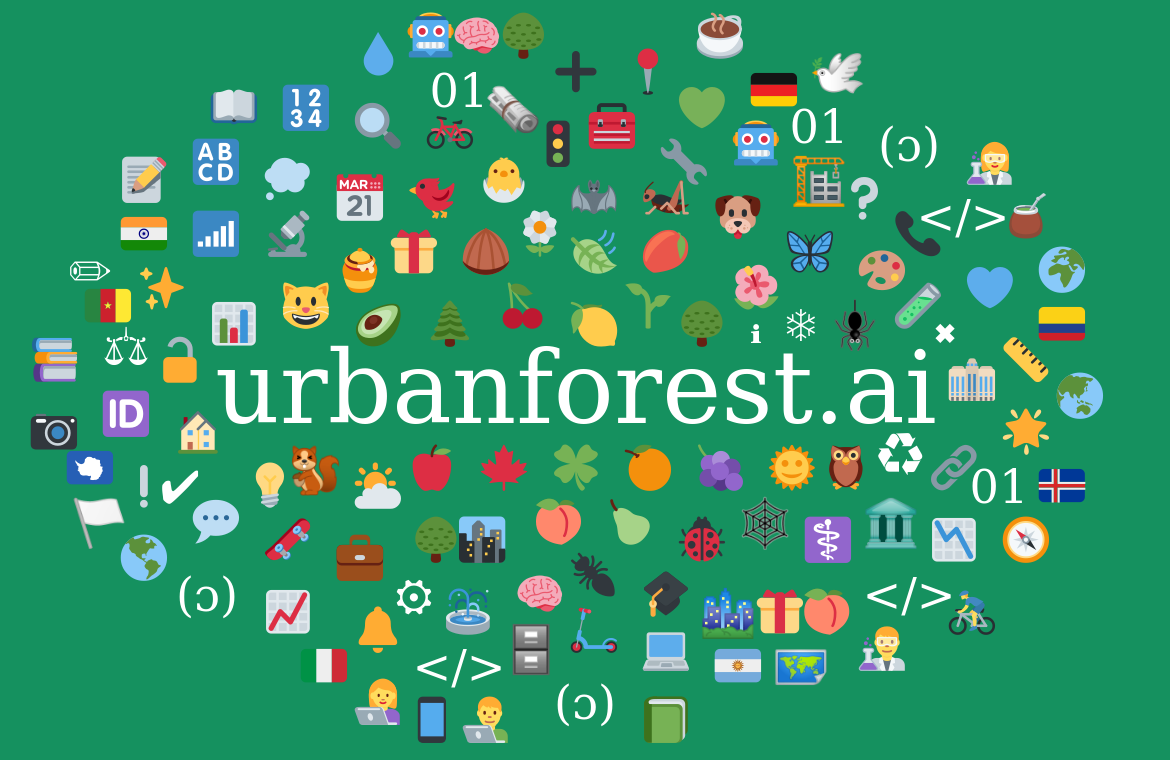 About
Background ↩
Buenos Aires government 🏢
In the year 2014 the government of the Autonomous City of Buenos Aires published on its website the official urban forest census, which had been conducted between the years 2011 and 2012.
On this census was registered the exact position of over 300 thousand trees with details such us the species name and the individuals height.
However, until that time the only way to visualize that information was with a Geographical Information System, which required some previous technical knowledge on how to use these technologies, making it difficult for people not specialized on the subject to access this kind of information.
arboladourbano.com 🏙 🌳
Acknowledging this problem, Martín Simonyan, a Landscape Designer and Web Developer who worked at the Buenos Aires government, began that same year developing a website by himself which its address would be arboladourbano.com. He believed that by publishing this data in a web map format, he would ease end users to reach it. At the same time, he thought that it would be a great opportunity for him to connect both of his areas of expertise.
La ciudad nos regala sabores 🏙 🎁 🍊
Meanwhile, Ludmila Medina, an Organic Crop Production technician who worked as one of the leads of the urban forest census, usually went out to ride her bike across her neighbourhood. She started to realize that there was a great deal of edible fruit trees spread along the public roadway. To her dismay, she saw how so much fruit was wasted and tossed away on the side-walk, with no one picking it. So she came up with publishing photos of the fruit trees on her Facebook account each time she made a neighbourhood tour by bike. When her contacts saw her photos, they started to ask her where the trees were located, so she began writing a public list of fruits trees each one with its name and exact location. As the demand for the trees' locations grew, she decided to begin making city tours as a hobby, once every month, where she guided her followers and showed them where the fruit trees were. In a given moment, her project earned great popularity, so when she thought it had matured enough, she decided to put it a name, and that is how "La Ciudad nos Regala Sabores" (The City Gifts us Tastes) was born. Nowadays, her project is sponsored by the Buenos Aires government.
A joint effort 👩 👨
However, in a certain time, she found a bit difficult to maintain a huge plain text list of trees' locations, so she thought she should talk with Martín. Martín and Ludmila previously knew each other from the Faculty of Agronomy at Buenos Aires University, so Ludmila provided him with her fruit trees list, and she asked him to create a feature for arboladourbano.com, a filter that would enable users to see where the fruit trees where located in the city. That filter would be called "sabores" (tastes), named after her project. When this feature was released, she started using and promoting the map between the followers of her own project. She became the greatest user and promoter of the map.
A novice guy 🔰
In 2014, a school student who was living at Patagonia, called Francisco Ferioli Marco, saw Ludmila in the news, talking about her project La Ciudad nos Regala Sabores. She greatly called his attention because just some days ago he had been thinking about a similar idea, and he felt surprised that someone else had already started working on it, as it was not something usual.
In 2016, Francisco moved to La Plata to study Biology. As a side consequence, this gave him the chance to try to meet personally Ludmila, since Buenos Aires is located just 1 hour by bus from La Plata. He succesfully arranged to see each other in one of Ludmila's tours, and after that, they had a talk in which he asked her whether he could help her with her project, so she suggested him to join the "local chapter" which had already been created in La Plata. Later on, Francisco would become the lead of the chapter.
After some weeks, Ludmila told Francisco about Martín's website, and he thought that it would be really convenient to communicate with him in order to coordinate efforts. Martín invited Francisco to visit his home at Buenos Aires, to discuss how to work together and how to improve the map.
That day, they started a long lasting collaboration, and after some months it would turn into Francisco's main project. He felt that he would be of greater help to people if he studied how to obtain the locations of the street trees, so arboladourbano.com's map could cover as many cities as possible, enabling projects like La Ciudad nos Regala Sabores to make use of this data.
As Francisco slowly got into the world of Data Science, he would get driven more and more towards that subject, and that is how, in part, he changed degrees and started studying Computer Science in 2020.
Story 📖
urbanforest.ai 🏙 🌳 🧠
In the following three years after 2017, lots of changes would happen both in arboladourbano.com and in Francisco's personal life, leading him to move back to his city of origin, Cipolletti, and apply for the National University of Comahue, which is where he started studying Computer Science after going through 2 years of Agronomy Engineering at the same university. Martín and Francisco would part ways because of having different points of view, as well as Martín had too little time to face the project as a team. Therefore, on June 2020, Francisco started his first very own project, called urbanforest.ai, incorporating artificial intelligence technologies in the process of urban forest maping. He strived to create an international, multicultural team with people from all ethnics, academic and professional backgrounds. He was lucky enough to achieve this, and this is how the urbanforest.ai team started, welcoming everyone who wants to help spread the knowledge and care of the urban forest.
The Team
Our core team is currently formed by both students and professionals, as well as many Web Developers, 3 Engineers, 1 Architect, 1 Geographer, and 1 Pharmaceutic. Although our areas of expertise are very different, we all share a background on Data Science, and we believe that diversity just makes our team richer. We have a strong sense of ethics, being integrity one of our main foundations, but without missing a coherent and prudent understanding of pragmatism.
We also have a complimentary team of contributors who are allowed to make contributions on their own pace, but in turn they have less privileges in relationship to the administration of the project.
Objectives and basis 🔎
Open data: ease access to official and public data 🔓
Simplify the access to the official urban forest censuses of the whole world, hoping to collaborate in the development of the knowledge and care of the urban forest.
"To be able to value and take care, first we need to know." − Martín Simonyan.
Broadening general knowledge: science for everyone ↔ 🧠 🔬 👥 👥
As part of our commitment to open software and open culture, we think its fundamental that all citizens can make use of public sources of information to learn about Botany in an easy way, as well as Science in general in order to incorporate it in the daily lives of people showing them its utility in real and practical situations.
The urban forest has roles of great relevance for everyone, for example biological (it is a natural source of oxygen for every aerobic organisms), ecological (it is the home for most of the bird species), hydrological (it retains pluvial and fluvial water), climatic (it maintains the temperature at acceptable levels) and environmental (it insulates the noise pollution).
Fight climate change: healthier trees, lower temperatures ➕ ⚕ 🌳 ➡ ➖ 🌡
Trees' capacity to retain CO2 and produce O2 decreases when they suffer diseases (SEARCH FOR CITATION). Therefore, having a proper systematic and universal control over their health, would allow municipalities take data driven decisions over the urban forest supervision, keeping trees' efficiency high and enabling them to better absorb greenhouse gases in consequence.
Saving energy wastes: lower temperatures, lower bills ➖ ⚡ ➡ ➖ €
There is published evidence that houses covered by trees have a temperature of up to less than 5 degrees Celsius in comparison with those which have no tree cover. In summer, this is a great advantage as they help to keep houses fresh and therefore there's a way lower need for using air conditioning, which in turn saves trees owners lots of money in electricity bills.
Concrete itself is a serious heat conductor so in places with no tree shadow it only helps to keep temperatures high.
A good example of how dramatic the impact of urban forest is, is Lyon, at France, where in the summer of 2019, due to the absolute lack of tree cover, summed by the heat wave that hit the whole European continent, temperatures raised up to 45 degrees Celsius, making it unbearable to walk by the street and forcing people in many cases to stay at home with air conditioning, supported by the advise of the local government. This phenomenon even earned an own name, and the French called it "Canicule".
Considering street trees' impact in winter, they retain heat, so it is not so necessary to use heating.
In an overall, trees act like temperature regulators, stabilizing daily as well as annual thermal amplitude.
The money that neighbours saved on energy bills could be redirected so it covers costs of other essential needs like food, water or clothes, as well as just making savings or even pay more taxes that would provide municipalities with more money to invest in public infrastructure.
Having a public map of the urban forest would also allow municipalities know which areas of their cities are lacking tree covers and consequently take action over foresting those areas.
Saving human resources: more automation, lower HR costs ➕ 🤖 ➡ ➖ 👥 €
When making a urban forest census, the costs are usually high when it comes to human resources. This is because the traditional way of surveying does not consider automation and artificial intelligence technologies, and consequently the need for many employees to take charge of the same task, sometimes even tens of employees, makes municipalities loose lots of indispensable money. Another reason for this is the need for many highly technically trained staff distributed among different surveying crews, so they guide employees on how to do their job.
If automation and artificial intelligence technologies were used for these tasks, a job usually performed by 10 employees could be done by just 1 employee, allowing municipalities to concentrate in investing on other areas which need more attention or even transferring employees to sectors where they would be more useful.
Appreciating and encouraging use of native species 📍 🌳
Having a public urban forest map with species classified by origin of precedence would teach people which species originally inhabited the place occupied by cities and which were brought from other ecosystems, so they can distinguish between native and exotic species and therefore prioritize native species when foresting, multiplicating and protecting them in order to preserve the local flora.
Valuing public green spaces as sources of food and medicine 🍊 🌿 ⚕
Public green spaces are a potential source of free and gratis vegetable food and medicine which could partially satisfy the needs of the citizens, specially those who are not able to afford a basic living, which are the most vulnerable part of the population.
Appreciating past/minority cultures: alternative living methods 1%
Providing the citizens with the technological tools necessary to learn about the urban forest may help them have an own experience with fruit picking practices usually held in the distant past by nomad people, permitting them to have a better experience based knowledge on how to live in wild ecosystems.